Fair warning to look away.  You'll probably wish I had kept it all in there instead of sharing with you.
Sharing is caring.
Does juice taste like syrup to anyone else?  I swear it's like a concentrate that I have to dilute at least 50% with water for it not to taste so syrupy.  Am I the only weirdo that thinks that?
According to my friend Sarah, Adam Morrison of the Wizards looks like a creepy porn star.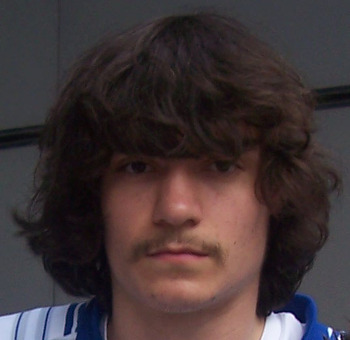 I am inclined to agree, though one from the seventies era, no?  We texted at length about him last night for reasons that are completely beyond me.  The only concrete thing I can say, I am pretty convinced he is one who would be sporting a full head of hair 'down there' too.  BTW, the image was shamelessly stolen from his Wiki page.
I have 6,809 emails in my inbox.  Dave has like 11, everything else is all categorized out and in pretty folders labeled things like "crazy shit from my wife I am afraid to read."  I am really really bad about deleting stuff in case I need to refer back.  Here is the weird thing, I have had 27 unread emails since I can remember and now I'm wondering what those 27 things are that I have never read.  Are you a deleter or email saver?  And someone just tell me to get my ass in there and start reading and deleting.
Wearing heels makes me want to poke my eyes out.  I am 5'3" tall, I should love heels for the extra few inches they sneak in, but I don't because they suck.
I want to see Hereafter, but I am pretty sure that I will cry uncontrollably.  In a theater.  With lots of strangers.  Maybe I should wait for dvd?
Speaking of movie theaters, my friend Amy lives in New York and refuses to see a movie because of bed bugs.  Apparently they are spreading like wildfire including places like movie theaters.  Ew.
You're still wondering if Adam has a groin afro aren't you? 
Of course not, only weirdos would think of stuff like that.
Which leads me to my last point.  I hate more than anything when people say Happy Hump Day. 
Happy Wednesday where I am not thinking of you humping anything.  So, if you're still talking to me after this post, say hello in the comments.