So my husband is usually stocking challenged. He tries. Really he does, but he doesn't get the idea of a fun little tresure filled sock of delightful goodies. I think it is because I was spoiled. My mother is, to this day, the best stocking filler in the world. She searches out all manner of lovelies year round and saves them up. To tell you the truth, my sister and I look forward to the stockings more than any gift under the tree. So alas, darling husband, here is a tutorial for stuffing my stocking with the best little treasures this year.
Lorac Lip Polish in BLISS from Sephora. Sure, at $17.50 it is a little pricey, but it is gorgeous and my new haircut is sassy enough to warrant a sassy little lip gloss to go with it.
Chocolates... specifically Guylian Belgian, the fruits de mer collection please. You can get them online at a million places, try au Marche. For Darling Husband, you can find them locally at the Andersons and I think Walt Churchill's Market might carry them as well. The little four piece sampler box should fit nicely in my stocking.
A new pair of mary jane style slipper socks! I bought the cutest pair at JC Penny on Black Friday and have been wanting another pair ever since. My sister said that Target has them.
If I weren't still nursing, I'd ask for a lovely selection of mini flavored vodkas. There is always next year...
A Martha Stewart acrylic stamp mount, found here and at Michaels. Bonus points for getting some actual stamps to put on it.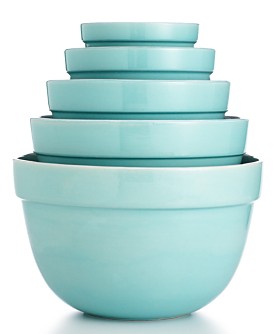 I digress, this isn't a stocking stuffer, but how fabulous would these Martha Stewart bowls be in our kitchen? Just the touch of aqua I think we need. *cough* Macy's *cough*
OK, so that gives Darling Husband a start to my stocking lovelies. There are about
T
H
R
E
E
shopping days left. Waiting till the last minute and shopping at the gas station is really not acceptable this year.